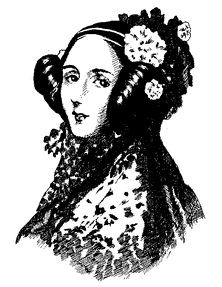 Augusta Ada Byron
(1815-1852) was the only daughter of
Lord Byron
the poet and his wife Anne Isabella Noel Byron (who became a peeress in her own right, the 11th Baroness Wentworth, after her daughter's death).
She married William King, 8th Baron King, later 1st Earl of Lovelace and 1st Viscount Ockham, and is best known for her work with Charles Babbage on his Analytical Engine.
Their children were:
Byron King-Noel, 12th Baron Wentworth (title inherited from his maternal grandmother), styled Viscount Ockham (in right of his father).
Anne Isabella Noel Blunt, 15th Baroness Wentworth (known for most of her life as Lady Anne Blunt
Ralph Gordon King Noel Milbanke, 2nd Earl of Lovelace, 2nd Viscount Ockham, 13th Baron Wentworth and 2nd Baron King (father of the 14th Baroness Wentworth).
Ada has a place in the family tree published in Tarzan Alive, as grandmother of Lord John Roxton.
Wold Newton scholar Dennis Power has suggested that Ada Lovelace might have also given birth to a pair of twins, one a dwarf and the other club-footed, who were sent away for adoption and who grew up to be Dr. Miguelito Quixote Loveless and his brother Arliss; however, there are other, unconnected, theories about their origins.
External Links
Ad blocker interference detected!
Wikia is a free-to-use site that makes money from advertising. We have a modified experience for viewers using ad blockers

Wikia is not accessible if you've made further modifications. Remove the custom ad blocker rule(s) and the page will load as expected.