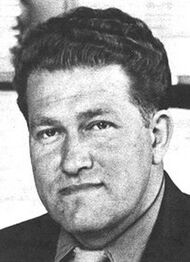 August William Derleth (1909-1971) was an American writer, chronicler of the detective Solar Pons, friend (and in many ways literary executor) of H.P. Lovecraft and founder of Arkham House. He himself contributed numerous accounts of events having to do with the Cthulhu Mythos.
External Links
Ad blocker interference detected!
Wikia is a free-to-use site that makes money from advertising. We have a modified experience for viewers using ad blockers

Wikia is not accessible if you've made further modifications. Remove the custom ad blocker rule(s) and the page will load as expected.