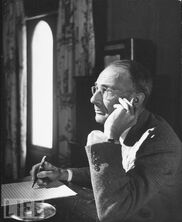 C.S. Forester (1899-1966) was an English writer of historical novels, most famous as the chronicler of Napoleonic naval hero Horatio Hornblower. Forester, like P.G. Wodehouse and Raymond Chandler, was an alumnus of Dulwich College. He may also be credited with discovering Roald Dahl as a writer.
External LinksEdit
Ad blocker interference detected!
Wikia is a free-to-use site that makes money from advertising. We have a modified experience for viewers using ad blockers

Wikia is not accessible if you've made further modifications. Remove the custom ad blocker rule(s) and the page will load as expected.