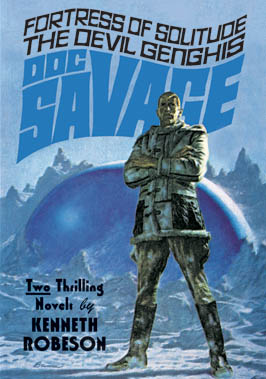 Doc Savage
(aka "The Man of Bronze") is the common
nom de guere
of Clark Savage, Jr, a great adventurer and scientist mostly active in the 1930s and 40s, as made famous via his exploits being popularized in a series of pulp novels of the time, published under the house name of Kenneth Robeson (predominantly
Lester Dent
).
A biography, Doc Savage: His Apocalyptic Life, was written by Philip José Farmer in the 1970s, who (in this book, and his earlier Tarzan Alive) uncovered many hitherto-unknown details about Doc's life, including his parentage and familial relationships to Tarzan, Sherlock Holmes, Fu Manchu and James Bond (among many others). Farmer, unlike some other Savage scholars, identifies certain of the pulp novels as fictional.
Doc Savage's father was Clark Savage, Sr, whose real name Farmer stated was James Clarke Wildman. Farmer also identified Doc's mother as Arronaxe Larsen.
In the 1980s, DC Comics published a Doc Savage series that revealed that he married Princess Monja F'Teema, and had by her one son, the unhappy Clark Savage III.
External Links
Ad blocker interference detected!
Wikia is a free-to-use site that makes money from advertising. We have a modified experience for viewers using ad blockers

Wikia is not accessible if you've made further modifications. Remove the custom ad blocker rule(s) and the page will load as expected.