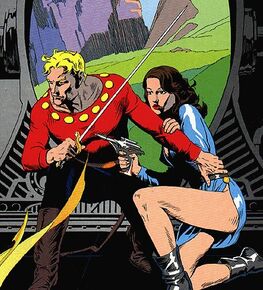 Raymond "Flash" Gordon (known as "Speed" Gordon in Australia) was an athlete who travelled to the world Mongo with Dale Arden and Dr. Hans Zarkhov, eventually helping overthrow the tyrant Ming the Merciless. His exploits were initially chronicled in the comic strips of Alex Raymond.
Mark Brown first brought Flash Gordon into the WNU in his genealogical study of the Gordon family, "The Magnificent Gordons".
External Links
Ad blocker interference detected!
Wikia is a free-to-use site that makes money from advertising. We have a modified experience for viewers using ad blockers

Wikia is not accessible if you've made further modifications. Remove the custom ad blocker rule(s) and the page will load as expected.