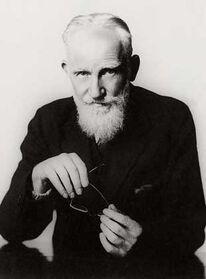 George Bernard Shaw (1856-1950) was an Irish author, mostly of plays and essays. Renowned for his wit and eccentricity, his major claim to fame in terms of the Wold Newton Universe is as chronicler of An Unsocial Socialist, concerning John Clayton, 5th Duke of Greystoke (as identified by Philip José Farmer).
External Links:
Ad blocker interference detected!
Wikia is a free-to-use site that makes money from advertising. We have a modified experience for viewers using ad blockers

Wikia is not accessible if you've made further modifications. Remove the custom ad blocker rule(s) and the page will load as expected.