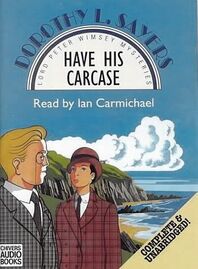 Harriet Deborah Vane
was a mystery novelist and amateur detective in the 1930s who worked with and eventually wed
Lord Peter Wimsey
(she was subsequently entitled to the sytle of Lady Peter Wimsey). Their courtship and cases (which were in effect the same thing) were chronicled by
Dorothy L. Sayers
. According to Sayers, the couple had five children.
Her inclusion into the Wold Newton Universe derives from Tarzan Alive by Philip José Farmer, which identifies Lord Peter as a central member of the Wold Newton Family.
External LinksEdit
Ad blocker interference detected!
Wikia is a free-to-use site that makes money from advertising. We have a modified experience for viewers using ad blockers

Wikia is not accessible if you've made further modifications. Remove the custom ad blocker rule(s) and the page will load as expected.