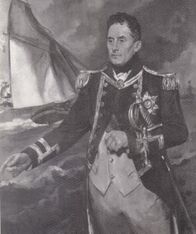 Horatio Hornblower
, 1st Viscount Hornblower of Smallbridge in the County of Kent (1776-1857) was an English Naval officer (born Horace Hornblower) who rose to great prominence during the Napoleonic Wars. An orphan from Kent, he excelled in mathematics at school so passed the exams to become a Midshipman at age seventeen. Following an escape from France and recapture of a RN cutter the
Witch of Endor
, Captain Hornblower achieved notoriety and heroic status in the eyes of the British public. He was rewarded for his exploits with a knighthood and a Colonelcy of the Marines. He was twice married, latterly to Lady Barbara Wellesley, the youngest sister of the Duke of Wellington. Eventually he was made a Viscount and achieved Flag rank. His career was chronicled in a series of novels by
C.S. Forester
, and there is a biography by
C. Northcote Parkinson
.
Philip José Farmer mentions Hornblower in Tarzan Alive, as the great-grandfather of Alice Gridley, mother-in-law of John Paul Clayton, himself son and ducal heir of Tarzan.
External links
Ad blocker interference detected!
Wikia is a free-to-use site that makes money from advertising. We have a modified experience for viewers using ad blockers

Wikia is not accessible if you've made further modifications. Remove the custom ad blocker rule(s) and the page will load as expected.