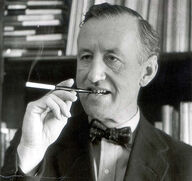 Ian Fleming (1908-1964) was an English journalist, Naval Intelligence Officer and author, best known as the chronicler of the adventures of James Bond. He was also heavily involved in the planning stages of the television series The Man from UNCLE but was forced to withdraw from the project for legal reasons.
Ad blocker interference detected!
Wikia is a free-to-use site that makes money from advertising. We have a modified experience for viewers using ad blockers

Wikia is not accessible if you've made further modifications. Remove the custom ad blocker rule(s) and the page will load as expected.