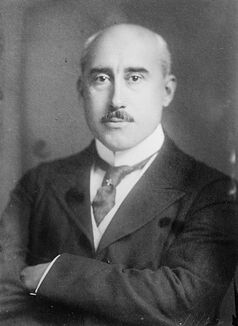 John Kendrick Bangs
(1862-1922) was an American humorist chiefly remembered for two things:
The creation of the genre of "Bangsian Fantasy", in which various familiar characters from different periods of history meet in an afterlife scenario, in his book A Houseboat on the Styx and sequels. The series was an obvious influence on Philip José Farmer's Riverworld novels.
copious affectionate Sherlock Holmes parodies.
He was a personal friend of Arthur Conan Doyle, and (as Bangs revealed in an 1899 New York Times interview) visited him at Undershaw in 1898.
External Links
Ad blocker interference detected!
Wikia is a free-to-use site that makes money from advertising. We have a modified experience for viewers using ad blockers

Wikia is not accessible if you've made further modifications. Remove the custom ad blocker rule(s) and the page will load as expected.