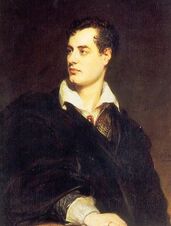 George Gordon Noel Byron
, 6th Baron Byron (1788-1824) was the famous Romantic poet and hero of the Greek War of Independence. His wife, Lady Byron, had been born Anne Isabella Milbanke (later changing her surname to 'Noel' before marrying Byron) and became 11th Baroness Wentworth many years after his death; their daughter was
Ada Lovelace
. Byron had, however, many lovers, and an illegitimate child by at least one.
In Tarzan Alive, Philip José Farmer identifies him as the great-grandfather of John Byron Wentworth, better known as Lord John Roxton, and as a friend of and influence on General Sir William Clayton.
External Links
Ad blocker interference detected!
Wikia is a free-to-use site that makes money from advertising. We have a modified experience for viewers using ad blockers

Wikia is not accessible if you've made further modifications. Remove the custom ad blocker rule(s) and the page will load as expected.