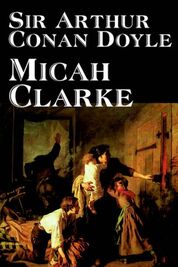 Micah Clarke
is the eponymous hero of the novel
Micah Clarke: His Statement as made to his three Grandchildren Joseph, Gervas and Reuben During the Hard Winter of 1734
by
Arthur Conan Doyle
, which concerns Monmouth's Rebellion of 1685. Clarke is the son of
Joseph "Ironside Joe" Clarke
, who had served under Oliver Cromwell in the English Civil War, and Mary Shepstone.
According to Philip José Farmer in Doc Savage: His Apocalyptic Life, Micah Clarke's father was a descendant of Solomon Kane. Farmer notes that Conan Doyle does not give the name of Micah Clarke's wife, but asserts that the graveyard at Havant contains the burial-place of one Sarah Frobisher Clarke. He also traces the notable descendants of their three sons Rueben Clarke, Gervas Clarke and Micah Clarke the Younger.
Ad blocker interference detected!
Wikia is a free-to-use site that makes money from advertising. We have a modified experience for viewers using ad blockers

Wikia is not accessible if you've made further modifications. Remove the custom ad blocker rule(s) and the page will load as expected.