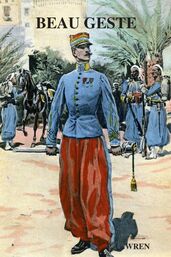 Patricia Rivers, Lady Brandon, is the wife of Sir Hector Brandon, and the adoptive mother of the Geste brothers. She is described by Philip José Farmer in his article "Jongor in the Wold Newton Family", and by P.C. Wren in his novel Beau Geste. Mr. Farmer notes that she is the niece of Jongor's grandfather Patrick Rivers.
Ad blocker interference detected!
Wikia is a free-to-use site that makes money from advertising. We have a modified experience for viewers using ad blockers

Wikia is not accessible if you've made further modifications. Remove the custom ad blocker rule(s) and the page will load as expected.